All our printing methods are Nordic Swan Ecolabel certified – sheet-fed offset, digital printing and web-fed offset.
1. Choosing paper – for books marked with Nordic Swan label, Nordic Ecolabelled and inspected paper can be used. Full list with papers which can be used for Nordic Swan labelled books can be found on the official web page
2. Proportion of certified materials – Nordic Swan labelled book must consist of at least 80% materials that are approved by Nordic Swan, "materials" meaning – Nordic Swan approved paper and cardboard. Please ask your contact person to estimate, if your book project is in conformity with this regulation.
3. Materials used in book production - Feel free to choose any type of foil, laminate, ink, varnish etc., all of the kinds we use are approved by Nordic Swan.
4. Logo – there are 3 objects which should be visible on the book or inside the book:
Nordic Swan logo;
Text "Nordic Ecolabel" and "Printed matter";
Livonia Print license number.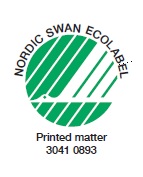 It is possible to choose the explanatory text for "Printed matter" and "Nordic Ecolabel" in another language (not just English or Nordic languages). To check the different language options please contact your Project Manager.
Please inform your contact person about the location where you would like to have the logo, our prepress will include it in your files and you will be able to check and approve it at the file confirmation stage.
If you do not want to use Nordic Swan logo, there is an alternative – you can point out, that the printed matter (a book) is Nordic Ecolabelled,with the license number is stated.
Updated: 2018.01.09. with new Nordic Ecolabel logo.