If you wish your book to be EU Ecolabel product, please follow these guidelines:
Choosing paper – for books marked with EU Ecolabel only EU Ecolabel certified paper can be used. It is important to check if the chosen paper is certified by EU Ecolabel. You can receive a list of paper brands that are certified by EU Ecolabel from your contact person at Livonia Print. If paper you have chosen is not certified, our Sales or Project managers can help you choose an equal alternative from the available certified papers.
Proportion of certified materials - EU Ecolabel book must consist of at least 80% EU Ecolabel certified materials, "materials" meaning – EU Ecolabel certified paper or paperboard. Please ask your contact person to estimate, if your book project is in conformity with this regulation.
Inks – all our sheet-fed offset inks, except UV inks, are certified. A list of approved Pantone inks are also available. UV printing, screen printing, web-offset printing and digital priniting at the moment are not approved. If more detailed information is needed, please contact your Project Manager.
Lamination and foil stamping - feel free to choose any type of foil or laminate we offer, all of the kinds we use are approved by EU Ecolabel.
Remember - UV inks or varnishes are not allowed for books labeled with EU Ecolabel!
Logo - there are 3 objects which should be visible on the book or inside the book:
EU Ecolabel (or EU Ecoflower) logo. Logo should not be smaller than 10.6x10.6 mm.
Livonia Print license number.
Text: "Please collect used paper for recycling"
Please inform your contact person about the location where you would like to have the logo with its mandatory information, our prepress will include it in your files and you will be able to check and approve it at the file confirmation stage. It is recommended that logo and Livonia Print license number are placed together, for example like this: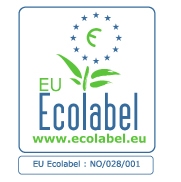 There are 3 types of EU Ecolabel logo: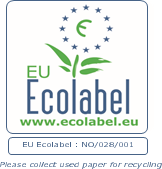 In addition to the mandatory information, which has to appear on the book (or inside the book), it is also possible to add the optional label with a following text box:
This printed paper is recyclable
It is printed using paper with low environmental impact
Emissions of chemicals to air and water of paper production and printing process have been limited

It is not possible to change the text (obligatory text and optional text) but it is possible to translate it in all EU official languages.
If you choose to put also the optional text box where EU Ecolabel logo is already included, there is no need to put a separate logo.