In general, we use 4 different paper types: gloss and silk coated paper, uncoated white paper anduncoated yellowish paper stock. Each of these paper types requires different colour separations, for which we recommend the following ICC profiles:
Download ICC profiles
Gloss coated paper
Download ISOcoated_v2_eci.icc
Silk or matt coated paper
Download ISOcoated_v2_300_eci.icc
Uncoated white paper
Download PSO_Uncoated_ISO12647_eci.icc
Uncoated yellowish paper
Download ISOuncoatedyellowish.icc
These profiles should be installed and used for colour separation/CMYK conversion before placing images in page layout applications (InDesign). If RGB is placed in InDesign, remember in the PDF settings under Output you must select the Colour Conversion option: 'Convert to Destination (Preserve Numbers)' so that RGB content is converted to CMYK upon export.


When working with RGB data, it is essential that you ensure the 'Convert to Destination (Preserve Numbers)' option is selected in the PDF export options.
Installation of ICC profiles
On Mac OS X
Profiles are copied to this location: Macintosh HD / Library / Colorsync / Profiles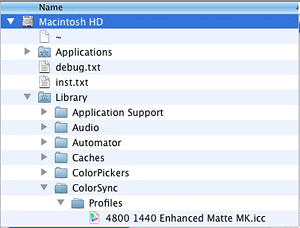 On Windows 7, Vista and XP
Right mouse-click the profile and from the submenu select 'Install Profile'. This automatically places the profiles in the correct directory: C: / Windows / System 32 / Spool / Drivers / Color